My Game-Day Style: Kenny Stills
Posted on June 13, 2017 @ 11:02 am
Kenny Stills was freezing. The hoodie he was sporting was no match for the Amsterdam windchill. A find at a local shop—a fitted camo coat with patches across the shoulders—let him keep strolling along the canals.
"It's dope when people wear a hoodie under a jacket, and I loved it because of all the patches and camo," he says now, reflecting on the offseason purchase from the warmth of his Fort Lauderdale home.
He flips the jacket around in his closet to show off the back. A slogan he hadn't noticed in the store is scrawled artfully in red: Fight For Your Rights.
"I'd just been getting involved in activism, so it was pretty cool," he says.
Most of his political statements have been far from coincidental, though. The Miami Dolphins wide receiver intentionally pared down his wardrobe earlier this year to make his game-day style show what he stands for.
"I'm into fashion and design and clothing, but I'm not into supporting brands if I don't know what their message is, and how the people that work for them are treated," says Stills, who is building a casual collection that conveys both his beliefs (T-shirts with powerful slogans) and his West Coast upbringing. "All the stuff that I wear has some type of meaning."
The 25-year-old's journey to fighting for social justice, both on the field and sartorially, was an unlikely one. His parents never discussed politics when he was growing up in Oceanside, California, just outside San Diego, and he considered himself "in the middle."
When the 2016 presidential election came around, Stills decided he wanted to educate himself on the issues so he could make an informed choice while voting for the first time. Stills started noticing a pattern on his Twitter timeline: trending hashtags of the names of black Americans killed by the police.
"The first couple, I was just retweeting stuff or hashtagging like, '#RIP,'" he says. "Day after day and week after week, these things kept happening. I didn't feel like I was actually doing anything about it, but that I could."
So Stills followed Colin Kaepernick's lead, and took a knee for the entire 2016 season. He has done the same so far this season, even after President Trump called him and like-minded athlete activists "sons of bitches" in September.
He and his teammates wore #ImWithKap shirts while warming up earlier this season. He started participating in events—ride-alongs, tailgates—that connected Miami police with the local community. He purchased books by James Baldwin and Michael Eric Dyson that lay stacked in his dining room, parts of a long to-do list for learning more about the history of racism in America. And he cleaned out his closet in an effort to make his wardrobe better reflect his evolving social consciousness instead of the shopaholic tendencies of a rookie with his first paycheck.
"I've donated a lot of my clothes and shoes. There's no point in having a bunch of stuff that you're not going to wear," he says. "Why not just have a few things that you actually like?"
His closet is in one corner of his open-concept master bedroom, which boasts a view of the canal behind his house. All of Stills' clothing occupies about one rack and a few drawers. A row of hats and his girlfriend's collection of designer purses are on a high shelf, while his many boxes of sneakers are stacked behind closed doors.
"When I first got into the NFL, I was trying to get every pair of Jordans there were—but I've kind of grown away from it," he says. The evidence is in the Adidas slides he's sporting.
He's keeping a relatively select crop of shoes, nearly 30 pairs, including Nike Air Yeezy 2s.
"I had the connection to get them, so, why not?" Stills says. He's also holding onto the Nike LeBron 10 Corks. "I'd gotten the first ones for Christmas, and I loved them. I would never wear these, but maybe one day I'll meet him and he can sign them or something," he says.
The rest of his collection is in the garage, awaiting a sale or maybe a holiday giveaway.
The shoes he actually wears most? Vans, a throwback to his youth in Oceanside. He even rocked custom orange Vans cleats during Week 1 (he doesn't have a sneaker deal).
"You show up where I grew up, and someone's going to have a pair of Vans on. [I] grew up dancing to the Vans song and everything," he says.
It's just one facet of his laidback, raised-in-California aesthetic, which for the most part, guides his game-day looks.
"It's really important to me to stick to my roots by doing what's West Coast: wearing T-shirts and shorts," he says.
It's also just practical, given the combination of South Florida heat and pro football levels of exertion.
"I sweat too damn much already," he says, which explains why he hasn't popped the tags off of his navy satin Opening Ceremony bomber jacket. It's a piece he says could work with skinny jeans and boots if he were trying to dress more Miami. "Here, it's like, every time you step out, you have to look nice. But you've really gotta want to look good to sweat in all that."
How would he dress in cooler climes? "I like what ASAP Rocky does. He has a different look," he says.
Instead, since Coach Adam Gase has no game-day dress code other than outlawing tank tops, Stills embraces comfortable basics that have some kind of significance. "I love regular-ass T-shirts," he says. "When I re-signed my contract, I wore a shirt that said 'Libre' on it. I just like wearing shit that means something."
As he dissects his closet, he's wearing a shirt that says "Good Times." He bought it at a back-to-school shopping event for underprivileged kids. "I told the kid that it would be dope if he got it, and that I'd get it too so we could be matching," he says. "It's a great shirt, but stuff like that means more than anything."
At this year's Coachella, Stills wore a Junior Seau jersey. It's another piece of clothing that has special significance to the wide receiver. Seau is another San Diego-area native, and Stills wants to ensure his legacy is remembered.
"Growing up in Oceanside, a lot of kids had opportunities to go work out with him on the beach and stuff," he says. "He remembered who he was and where he was from and how he got there, and I always admired that. For him to commit suicide at such a young age, it really affected a lot of people from home. As soon as I could, I got his jersey. Whenever I go out wearing a jersey, this is the one I wear. I'm pretty sure I was the only one at Coachella in a fucking Junior Seau jersey."
Usually, Stills' only accessory is a hat—specifically, one of the New Era hats he designed.
"I grew up wearing only New Era, because that was the only thing that fit my head," he says. He's designed about 12 hats—everything from subtle dad caps with a small, unembellished Dolphins logo to corduroy throwbacks to a retro acid-washed denim fitted hat—which, he says, have all sold out.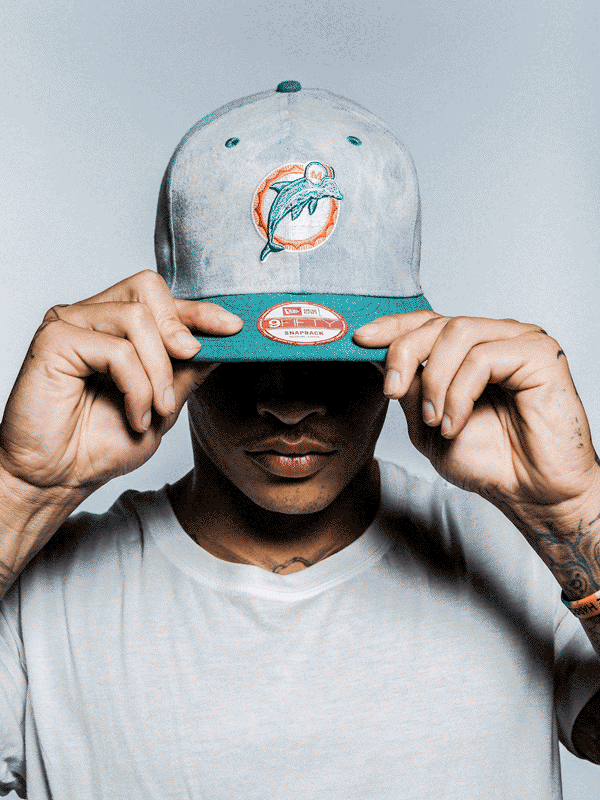 Design is something that Stills sees himself pursuing after football. He started a now-on-hiatus clothing company called Lumbear earlier in his career, but sees bigger things in the future. Perhaps even Big Baller-esque things:
"Even though they might not appeal to everyone and Pops [LaVar Ball] might be a little…different—people don't really accept them—I like what they're doing," he says. "My mind has always been there. My dream would be to have some kind of business or system where an athlete could come wanting to make their own product, and we could be the people that navigate that process for them, not have other companies profiting off their likeness. I think people are taken advantage of, and that's a way we could even the playing field."
For now, his sights are set on the end zone and not world domination, though he's still making time to think about how he can best use his success to promote the greater good. Stills' closet is just one example of how he's embraced activism—but that doesn't mean he's all business.
Take his fanny pack, for example: a worn-out camo pouch that appears handy, if not quite chic.
"I don't like keeping stuff in my pockets because I wear skinny jeans," he says. "I went to Mardi Gras four years ago and I was losing my stuff every day, so the fanny pack was a problem solver. It's good for festivals and carrying all the … things I need to carry," he says. "I love it, I use it a lot. It keeps me from losing my shit."